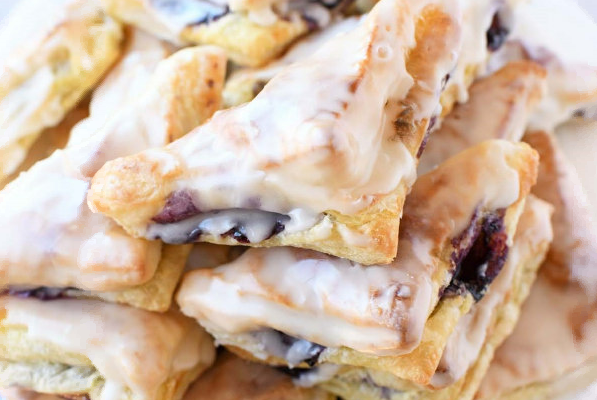 Blueberry Turnovers Recipe
Created by Amy Desrosiers @sizzlingeats Either using an air-fryer or conventional oven, you'll get easy turnovers with a flaky golden shell. These Blueberry Turnovers are made with puff pastry dough and fresh or frozen blueberries.
---
Prep Time: 15 min
Cook Time: 15 min
Total Time: 30 min


Directions
Over medium-high heat, add the cornstarch, and sugar to a small saucepan and whisk. Add in the blueberries, water,  Cinnamon Stick, Pure Lemon Extract, and water.
Bring the mixture to a boil, and continue to stir for 3-5 minutes, or until the mixture begins to thicken. Allow filling to cool before using.
In a small bowl, using a fork, whisk the egg and water to create an egg wash.
Once filling is cooled, layout thawed sheets of puff pastry dough on a flat surface. Cut the sheet into 3 rectangles and make 9 squares from each.
Brush on the egg wash along the edges of the inside of the pasty. Add 1/2 tablespoon of filling to each and wrap over the edges to form a triangle shape. Crimp edges with a fork and lightly brush the top with the egg wash.
Preheat the air fryer to 320°F . Add the turnovers to a greased air fryer cooking grate and cook the turnovers for 7 – 10 minutes until their tops are golden brown in color. As mentioned above, air fryers cook food fast. Plus, different air fryer models vary in cook times, so it's highly recommended that you start checking your blueberry turnovers after they reach the 5-minute mark. They will be puffy, golden brown, and flaky in appearance. If they feel soft continue to cook them checking them every minute.
If using a conventional oven – Bake the turnovers at 425°F for 12-15 minutes on a parchment-lined baking sheet.
When your blueberry turnovers are baking, it's a perfect time to make the glaze. This is done by combining the confectioners' sugar, vanilla extract, and milk together in a bowl. Just whisk it together until it fully combines into a smooth, thick glaze. I used 2 cups of powdered sugar, 1/2 teaspoon of vanilla extract and 4 tablespoons of milk. You want the glaze, so it sets nicely once you dip each turnover in it.